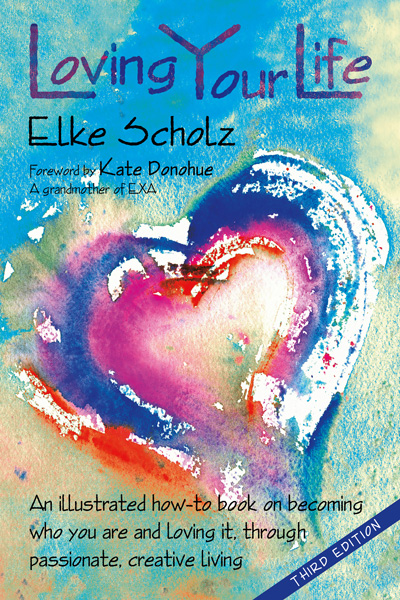 "This collection contains a wealth of innovative ideas for involving children and adults in therapy sessions. The interventions are classified into sections that therapists can easily select and apply. A valuable resource for mental health professionals who work in this field. Elke shows how love and an open heart give us access to creative living."  Vered Zur, MA, CAGS, Director of Expressive Arts, Ireland
"I loved this book!  It's a ground-breaking guide that offers strategies for discovering your talents and inner passions  to live a happier, healthier and more rewarding life.  We have the power to live the life of our dreams.  In her third edition, Elke Scholz skillfully identifies the tools needed to connect with our inner creativity and provides many approachable practices to guide us there. The result is the courage and confidence to love life through passionate, creative living.  The third edition provides even more insight than the expanded second edition. " Susanne Mika , retired public school teacher
Loving Your Life:
a fun practical approach for well being (3rd Edition), Paperback

Free Samples
Available at Amazon (Canada & U.S.A) as a paperback and e-book on your favourite platform. Also available from CreateSpace.
Wholesale is available internationally, check with your distributors.
"Throughout Loving Your Life, Elke safely, joyfully, and artistically guides you into your path not taken . . . the path that sometimes we skip . . . the path to our heart."  Joana Fins Faria, Expressive Arts Therapist, Portugal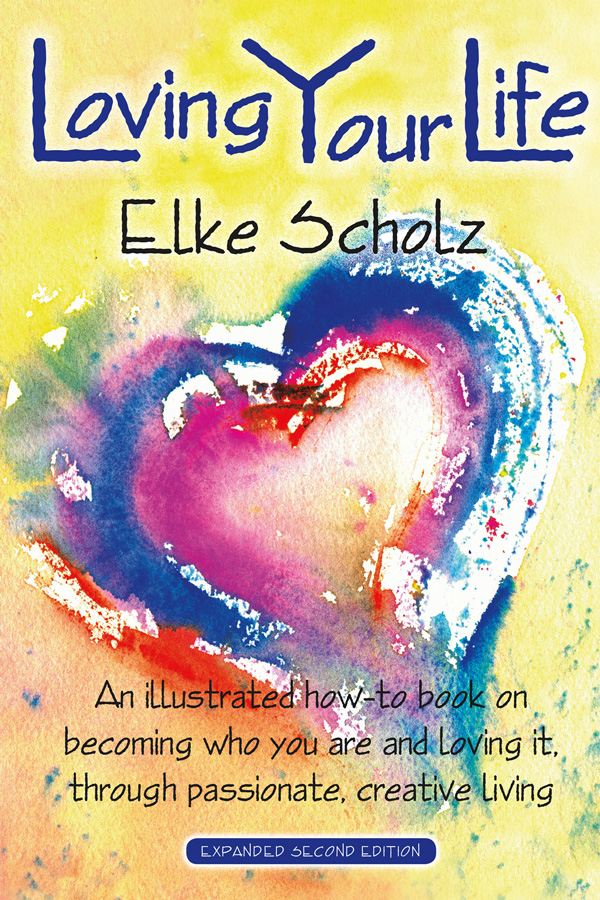 Loving Your Life:
a fun practical approach for well being (2nd Edition), fully illustrated, 258 pages, 6″x 9″, includes 40+ creative exercises.

I believe that each person has a wealth of creativity that leads to the ability to achieve his or her dreams. It is with in us, waiting to be recognized. With clarity of mind, body, and spirit comes the confidence to access all possibilities and probabilities. This book is not about fixing or changing who you are but rather about how through creativity and curiosity you can increase your awareness of self and your surroundings and fully live your life.
Free Samples
Great Value for 24.95 Available as a paperback on this site, Bracebridge Chiropractic and Wellness Centre,  Momma Bear's, Veranda and at Caversham Booksellers

Loving Your Life: Testimonials
Your book is well written as a road map to live best life intuitively, creatively and healthy mind, and Very clear in bridging between eastern and western culture.
Wayan Karji, Bali artist and art educator
Living Your Life is a wise and practical guide to finding creative power in your everyday life. Elke Scholz writes with a lively and clear style that anyone can understand. Every word of it comes from the heart. I recommend her book to artists, therapists, and to anyone who wants to live an authentic, creative life.
Prof. Tom McLaughlin, Appalachian University, Boone, North Carolina
"My only wish is that you would have written it forty years ago. Your book is now on my night table for daily inspiration, thank you," love Helen
2005 IPPY Winner, North American Book Award
" A book like this comes along only a few times in a lifetime. It is a direct, passionate but grounded and practical document, one that could change a lifestyle, that could indeed make a life worth living."Walter Pitman, author and director, Ontario Institute for Studies in Education
"WOW! My teenage daughter has taken it in her room to read, I'm highly recommending this book to all my friends." Heather Cohen, Oakville
"Reading 'Loving Your Life' had been an awakening and healing experience, inviting you to heighten your senses and explore your unique self. Sharing this book with others is a must!" Marina Zavitz, artist
" a rainbow of options for creative expressions and reflection…all to stimulate new ways of looking at our life and its possibilities…." Nuccia I. Morelli, M.Ed, Meditation Teacher & Transformational Therapist
"You're gutsy, inspiring, your commitment and integrity are rare. I enjoy the ride with you and your unforgettable lessons." Leah Claire, Toronto School-Community Advisor
Loving Your Life: first edition is already a collectors item on Amazon.
We deserve to live the best life possible.
"I believe that each person has a well of creativity, and an ability to achieve dreams. It is within us, waiting to be recognized. With clarity and confidence of mind, body and spirit, we can access all possibilities. This book is not about fixing or changing who you are, but about how, through creativity, you can increase your awareness of yourself and your surroundings, and fully live your life. Overcome anxiety, depression and heal your trauma. Through the arts we can access our true potential." ~ Elke Scholz
Reviews