| | |
| --- | --- |
| Overview- Main video: | Youth Therapy: |
| Therapy: | Welcome to the Space: |
Anxiety: how to cope, Hunter's Bay Radio discussion with Dr. Nick Bianchi
EMDR
What is EMDR?
EMDR was developed in the late eighties in the US and was primarily used for war veterans with PTSD. It has quickly come to be useful in eliminating all the symptoms associated with stress and trauma, like flashbacks, panic attacks, intrusive thoughts, anxiety, phobias on to depression, over-reactive anger, worrying, and disturbed sleep and so on. It has been studied and validated all around the world.
EMDR stands for Eye Movement Desensitization and Reprocessing though it does not have much to do with the eyes. We use bi-lateral movement stimulation. Sometimes I might wave my hand in front of your eyes back and forth, or we can get the same effects with bi-lateral body movement, like tapping and headsets using alternating beeps.
You likely have bad memories that you are at peace with, that is an example of how the brain is working as it should.
Sometimes memories get stuck in the information processing system of the brain, along with pictures, sounds, smells, tastes, emotions and body sensations, which were all part of the original experience. When memories are stuck, this is where EMDR, "desensitizes and reprocesses" the memory, helping your brain reprocess the memory, to a point of remembering the event that it no longer brothers you and you have peace with it.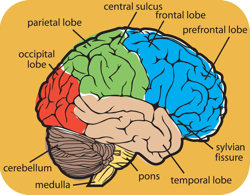 Science does not know exactly what happens in the brain during EMDR, we think it might be similar to the dream stage of sleep, your REM state. EMDR may be a kind of accelerated, conscious version of REM sleep.
During an EMDR session, you think of an issue or traumatic memory and we do a number of bi-lateral sets. Like a metaphor of watching a movie or sitting in a train watching the scene go by. All you have to do is notice and let it go by. Your brain is going to take you where you need to go. You need to know that you might experience intense emotions, both during EMDR sessions and perhaps between sessions. This can be difficult and tiring emotional work. You may need to really take extra gentle care of yourself in this work. Elke Scholz is a Certified EMDR Therapist in Canada and US.
Expressive Arts
What is expressive arts?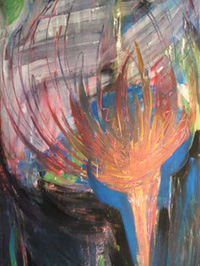 "Wow! this is not what I expected!" "Unusual and powerful!"
'Surprising"
Life and art are connected in many metaphorical ways and levels. Expressive Arts invites us to explore ourselves and our senses in art making. In a strong verbal world, the arts offers a wealth of non-verbal intelligence, helping to strengthen our creative power and deepen our relationship with life. The arts stimulate the brain neural-pathways in new ways of thinking, broadening new perspectives and insight.
In the doing of Expressive Arts we can build on our inner wisdom and resilience. The action of doing could be an action of moving from being stuck.
You are not your brain, your brain functions on memories, social beliefs and habits. Once the connections are found, you can make changes.
Technical experience in art modalities is not necessary as the goal is to " express" an emotion, self or situation. It is not to create an art piece, however, it is a way to shape an image for a new perspective. The client requires no formal art training. Expressive Arts is different than traditional talk therapy, in that it allows for process/goals to transpire in a non verbal way. Sometimes language and words are not enough. Sometimes finding words is difficult. Young people in particular do not always have the articulation and understanding that is required to communicate their feelings and thoughts. Words in themselves can be limiting in the expression of feelings.
In a session, the arts and psycho-education are used to assist the client. Elke uses client-focused and solution-focused therapy approach. The arts by the maker, allow those feelings to be expressed and witnessed as they are being experienced by the maker.
How can you change what you do not know?
Discoveries are made in the exploration and
perspectives are unique and meaningful to the maker.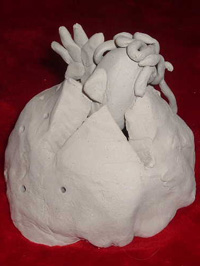 BENEFITS
Problems seem to lessen.
Concerns and issues seem to find easier resolution.
Life becomes quieter and more focused.
Greater enthusiasm for life develops.
Concentration and the ability to focus increase.
Enhanced understanding and empathy for oneself, others, and our environment develops.
Confidence and enthusiasm for learning increase.
Higher self-esteem and happiness are expressed.
Increased hope and confidence in our future with a global view emerge. (networking and socializing)
Participants can work on an issue, focus on creative play and/or stress relief. The focus could be artistic, emotional, sensory and /or aesthetic. The focus is totally dependent on the goal of the participant, the group and the workshop.
Initial phone call consultation is complimentary. Sessions are 1- 1.5 hours in length with a recommended attendance of weekly or semi-monthly appointments.
Scheduling is flexible.
Brochures
Private Sessions
Sometimes words aren't enough
Has your child suffered a significant loss or experienced trauma?
Is your child displaying signs of sadness, frustration, withdrawal and/or anger?
Does your child struggle to find the right words to express him/herself?
Are you worried about your child?
Do you want to help your child?
If you answered "yes" to any of the above questions, read on – there are solutions.
Since 1980, Elke has been helping children ages 5 – 17, express themselves in a unique way, which helps them lead happier lives.
Finding a new way for our children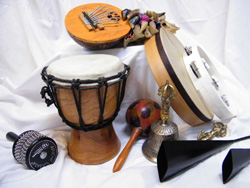 Expressive Arts helps children explore their world using their senses. Sessions vary according to your child's needs and preferences, and include:
unique musical instruments from across the globe
interior sand-box play with miniature fantasy and life-like figurines
live animals, visits to local petting farm and animal shelter
clay, quality paint, brushes and pastels
puppets and toys
dress up and games
connection with nature
The individual sessions are designed to encourage your child to freely share his/her stories with Elke, in their way, without being confined by the boundaries of language. It is a way to explore feelings that might be blocked otherwise. All sessions are confidential.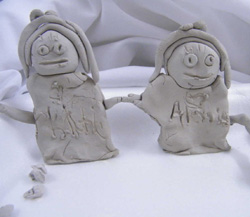 Expressive Arts can help your child with:
finding a way to communicate painful and difficult issues
feeling more settled after a major transition
healing and self esteem
a generally improved mood
finding new hope in their situation
easier access to their feelings
self awareness and confidence
feeling less frustrated
learning to release anger in an appropriate and healthy way
There's support for you too. Elke is available to support you with your questions and concerns. She will consult with you on a regular basis to share how sessions are going and to share the essence of the experiences your child is having.
"Painting is my favourite – because we were painting our feelings. I'm not crying as much anymore." ~girl age 7
"The thing I discovered about myself is that I don't have to be afraid to tell people how I feel." ~girl age 14
Grief & Trauma Recovery
The Expressive Arts Grief & Loss Recovery Program
Have you lost someone close to you?
Do you know a youth dealing with difficult emotions associated with grief?
Specially Designed Expressive Arts Program can help.
call for private/group and/or family support.
When Words are not Enough!
The Expressive Arts Grief & Loss Recovery Program offers:
creative life management tools for grief, loss & trauma
relationships & connections
self awareness
normalizing & expressing feelings
group support
support for caregivers
teen mentorship
& FUN! and so much more!
To be a Teen Mentor for an awesome experience and community hours call Elke 646-2300. See below for pics and blogs.
If you have wondered what we are about, see us all in action! Teen Peer Mentors, Participants and Facilitator, check out our links for YouTube and Expressive Arts Photo Albums.
Intakes are on going for upcoming programs. Groups are formed for Primary, Junior, Senior Elementary and Teens, with a maximum of six participants.
Mentorship Programs
Teen Mentorship Blog
Have you lost someone? Has someone died? Have you had too much change in your life? Need to talk? Support groups available for young people ages 8-23 who have experienced significant loss. Ten Sessions, includes one introduction night for caregivers. Check out our blog …
Testimonies from our 16 year old Mentors:
"This program has honestly changed my life. I went in to help others, and what I did not expect was that the participants would be the ones that helped me" Megan
"This is an amazing opportunity that is life altering for everyone in the room. It is the greatest feeling when you see that smile and hear their laughter after working through so much stuff." Katie
" The program is a great way for kids who have experienced a loss to let go off all those emotions and learn to deal with them in such a way we wouldn't think of." Kasia
"I enjoyed this experience immensely, everything we did as a group and individuals in the group was a success. This group was not a job, or work, or an interruption in my life – I enjoyed every Monday night for six weeks, and realize now how much I miss it. It was a very rewarding, amazing, and fun experience not only for the kids, but for the mentors as well." Madison
If you have wondered what we are about, see us all in action! Teen Peer Mentors, Hospice Trained Volunteers, Participants and Facilitator, check out our links for YouTube and Expressive Arts Photo Albums.
Students from previous programs are welcome to mentor for younger groups. They will be guided by the facilitator in expectations. Hours can used for high school community service hours. Interested High School Students are welcome too.
Intakes are on going for upcoming programs. Groups are formed for Primary, Junior, Senior Elementary and Teens, with a maximum of six participants. Hospice trained assistants will accompany all groups.
Call Elke Scholz (705) 646-2300, Fax 646-2304 escholz@vianet.ca for intake.
Our Clay Photo Album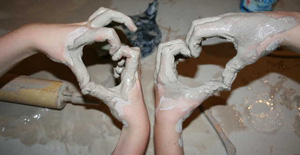 Expressive Art Therapy with Elke Scholz. Check it out!
If you do not see your age group, contact us and register so we know when to offer an age appropriate group.
Check out Hospice Volunteer, Jennifer Jilks' YouTube movie on Expressing Grief and one of our group activities.
Testimonies From Our Parents
" I could see a very big change in Mary. It is just so wonderful to see. I feel like I have my daughter back. She is definitely happier and she seems to be coping much better." Mother
" I had to come early to see what my kids were so enthused about" Mother
" Christopher had a wonderful time. I have never seen him so relaxed and happy." Mother
Creative Living & Learning
Ask about NEW! Creative Living and Learning, a more in depth program design to build resilience for at risk youth, ten 3 hour sessions.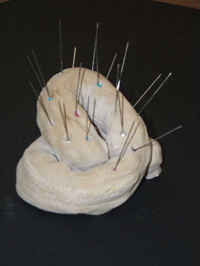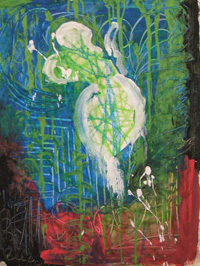 PRIVACY
Elke understands and is sensitive to people's right to privacy and confidentiality. Information can not be given out or shared without informed consent. Please feel free to discuss our confidentiality process and procedures. We have a legal and professional obligation to report to the appropriate authorities only in cases where individual are at risk to themselves or others, i.e. where there is a suspicion of child abuse, or as requested by court order.