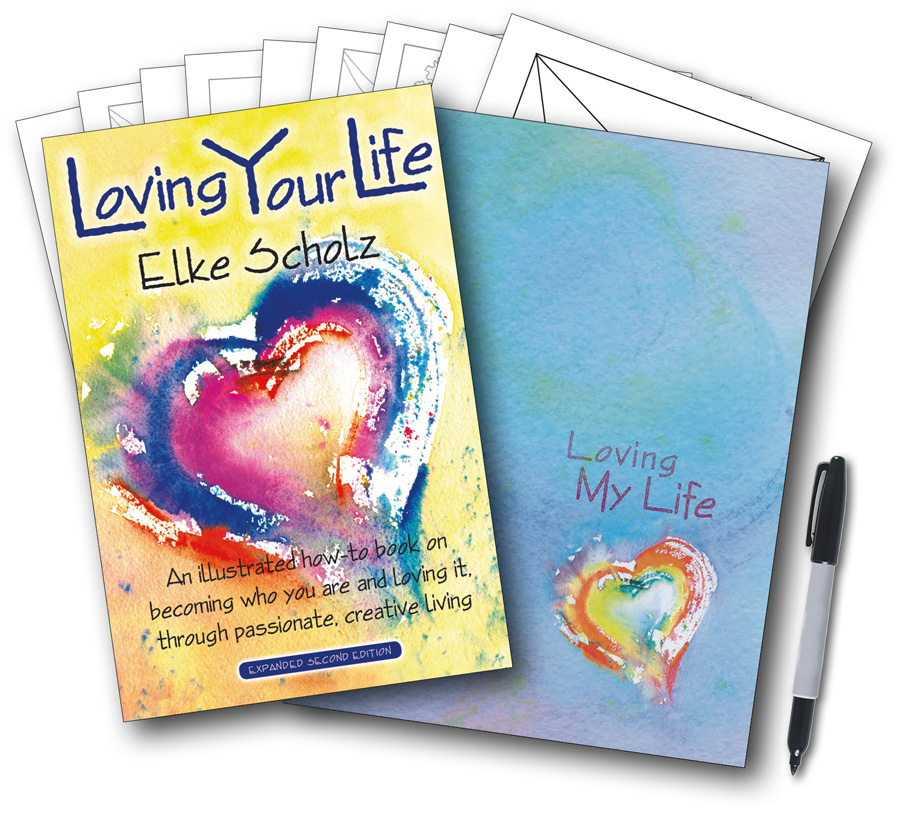 Star Kit includes 18+ items.
Loving Your Life paperback, a fun practical approach to well-being, 6″x9″, 258 pages, fully illustrated, includes 40+ creative exercises, a facilitators guide and resources.
PLUS
Loving My Life Hardcover Journal, 7″× 9″, 152 pages. Includes 25+ journaling ideas
PLUS
Word game warmups
6 mandala posters to colour your own way
6 drawing posters to complete your own way
Texture pattern sheet
An invitation by the author.
A marker so that you can begin right away
My personal invitation to you; I am inviting you to try some of my successfully proven ideas. A kit like this would have saved me a lot of pain.  I wish that I would have had the strategies and skills in these kits, long ago.  For years I did not know that I had anxiety and depression, and I most definitely did not think much of myself.  Lucky for me I had a Creative Writing-English teacher in grade eleven who began my journaling days.  This helped support me when there was little else.
Journaling changes the neural pathways in our brain.  Writing "it" down, is a way of lessening our burdens. There is much research backing up the benefits of journaling.  There are also proven theories of positive thinking, especially with gratitude journaling. With this practice it is possible to enhance your life.
Over the years, as a therapist, I have learned that we need to check in with ourselves, our body, mind, spirit and emotions every day. I learned that we need to be consistent in order to be successful. Practice makes our new habits comfortable.  I learned that we need to take care and nurture each part, daily.  When we do this, we can be balanced and happier.  When we cope better, we are able to help others with more value.  With regular self-care, we can give a more enriched experience to others.
There are many ideas here.  Try, explore and play.  Discover the ones you like and the ones that give you the most energy.  Make your daily practice your own. Every- body is uniquely, beautifully different, so that means different strategies work for different people.
Whatever your "combination" is – make it your own and practice it daily.  You will see a difference and this will help make you feel better, as many others before you.
The more connected you are to yourself, the more connected you are to your world.
Warmly, with love from my heart, Elke
the actual journal cover only has a heart on it, no title, the title in inside the journal.