Author Elke Scholz Sparks Creativity Through Expressive Arts Activities at the GB Harbour Centre
by Margo Little
GORE BAY—Bracebridge writer and psychotherapist, Elke Scholz, travelled to Manitoulin Island June 25 to 26 to share her therapeutic approach with Island writers and artists. Her Saturday book talk based on the Loving Your Life resource guide and her hands-on workshop Sunday at Gore Bay Harbour Centre were all part of the Manitoulin Writers' Circle 10th anniversary celebrations.
Ms. Scholz completed her formal education in Toronto and Switzerland and she holds a Masters in Expressive Arts Therapy. In addition, she is a member of the Registered Psychotherapists of Ontario. Over the past 30 years she has written about her philosophy and techniques in a dozen national magazines and books. She emphasizes the connection between the arts and living a positive life. "My goal is to help people enhance their lives and build their resiliency by empowering them with their innate creativity," she said.
In addition to her publishing ventures, she is also a respected painter in her home community and she uses her own personal poetry to inspire others and to illustrate concepts in her publications.
In a candid Saturday night session of question and answer, Ms. Scholz addressed some of the concerns expressed by audience members. She draws upon some of her own early childhood experiences to forge empathetic bonds with her listeners. After coming to Canada from Germany at age two and a half, she endured some difficult times in Kindergarten where mild dyslexia led to some switching of letters and numbers. Later on in high school she was fortunate to encounter teachers who were supportive and encouraging.
In her current practice, she has discovered that many students and employees suffer from a high level of anxiety. In fact, she reports that a half million people miss work every week because of stress in school, home and workplace. Since worry and chronic looping thoughts appear to be universal in our fast paced society, she has devoted a substantial part of her book and workshops to the management of fear and distress.
A second edition of the Loving Your Life guide has been released with an additional forty pages of resources. First published in 2004, this illustrated guide provides prompts and exercises for self-discovery and self-realization. Journal kits can also be purchased.
"I want to be helpful so I designed the book so that you can jump around in it and not read it cover to cover; you can use it as a resource book by going to the table of contents and choosing the topic that interest you. I know that when you need information, you need it right now so you can also go to the web site for more practical information. I want to really listen to people and to see their successes and build on that."
In her view, people have lost touch with their authenticity in the midst of a demanding technology based world. She believes there is a still a strong need for human touch and for meditation and breathing exercises to alleviate anxiety. During the evening meet and greet, she shared some of her poetry and led the spectators through a guided visualization exercise. Those activities served as a sneak peek into the workshop to follow.
The Sunday gathering allowed participants from Manitoulin, Sudbury, Welland and Tampa to stretch themselves through poetry, drawing, colouring, journaling and creative crosspollination. From 10 am to 3 pm Ms. Scholz provided opportunities for writers and artists to explore, to experiment and to express their life stories in a safe environment.
The weekend event was hosted by the Gore Bay Museum and the Manitoulin Writers' Circle. For more information visit www.elkescholz.com
Sunday, August 24, 2014
Loving Your Life by Elke Scholz, reviewed by Maria Duncalf-Barber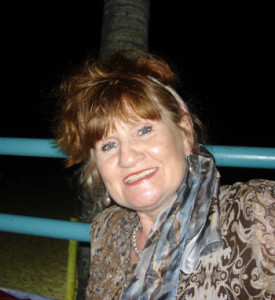 The multi-talented Bracebridge, Muskoka, expressive artist, writer and therapist Elke Scholz has updated and re-published her 2004 book Loving Your Life.
Her previous published edition sold out, and this new edition is more up to date, contemporary in its look and content. Also, she's added 40 new pages of exercises on life and emotions, illustrations, poetry, and art therapy.
Many books have been written about happiness and self-realization, but Loving Your Life is up there with the best of them. The book invites you to embrace happiness and know yourself.
The key to getting the most out of this book are the exercises. These lead you to an understanding of who you are and who you are becoming, which are the quintessential questions to answer for a life well lived.
Scholz has been on a lifetime journey of education and exploration. She graduated from the Expressive Arts program at Sir Sanford Fleming College, from a three-year intensive program at a private college, ISIS Canada, in Toronto, and she proudly and successfully completed the Masters Honours level for Expressive Arts Therapy at a European Graduate School, Sass Fee Campus in Switzerland.
"The original book was self-published and sold many copies," Scholz says. "I was honoured when three years later General Store Publishing House contacted me and said, 'we want to republish your book.'
"At that time I wasn't sure. I was busy and I was writing my Masters, but after great thought I said, 'yes, okay, I'll do it.' So I wrote more about the creative passionate living I was learning about and I am extremely happy with the outcome."
Scholz says that through the arts we can access our true potential. She writes about everything from breathing to journal writing, to developing personal vision, from embracing life and death and mapping your journey on a daily basis to finding happiness.
Scholz encourages us to "slow down this fast paced world" by recreating harmony within and by feeding the soul and savoring the moment, and by using positive thinking and mindfulness to create our own peaceful inner landscape.
Listen to that inner voice, she proclaims. Follow your heart by using all of our five senses with music, drumming, painting art, and writing, poetry as all creative endeavors bring us closer to harmony and peace within.
This book is a well written well illustrated tool, which offers resources to stimulate body, mind and spirit. It enhances education and enables the reader to express emotions and to work through personal issues in a safe, responsible, healing way.
From the beginning of the Breath of Life to Mapping your Life, this book is superb; it tells us that the arts will stimulate the neural pathways in the brain with new perspectives – a wonderful way to learn.
Loving Your Life is available through General Store Publishing.
Maria Duncalf-Barber has written everything from short stories to poetry, from book reviews to columns on personal growth.
Loving Your Life: An Illustrated How-to Book on Becoming Who You Are and Loving It, through passionate, creative living (Expanded Second Edition)
Elke Scholz, Author
2013, General Store Publishing House Inc.
Reviewed by Tawnya D. Smith, PhD, IEATA International Arts Therapy Association

The first edition of this book was published in 2004 and is based upon Scholz's wealth of experience gained through her own personal arts practice and through facilitating expressive arts experiences for others. Since the time of the first publication, she has received formal education in expressive arts therapy from ISIS in Toronto, and the European Graduate School in Switzerland. This second edition expands upon the first in that it incorporates some expressive arts terminology, has additional exercises, includes a new chapter on death, and has a few additional and more recent references.
While this book introduces the discipline of the expressive arts, it rarely references expressive arts approaches or authors, and does not acknowledge that the expressive arts are used for educative and therapeutic purposes. Because the book lacks this context it is best described as an expressive arts self-help guide intended for those who enjoy relatively stable mental health. That said, many of the exercises and activities are appropriate as a complement to individual therapy, and some might also be adaptable for use with groups.
Each chapter in this book touches upon challenges or issues that individuals might face in life. These issues are explored through short narrative descriptions and awareness activities, and more extensive "creative practices" are offered to work with overarching issues. Essentially, the entire book is a series of activities grouped together loosely by themes. For example, the first chapter, titled The Beginning, includes self-awareness activities related to breathing, perceptions of time, the power of thought, state of mind, freeing the imagination, the spiritual self, and defining one's life purpose. Chapter Two, Clear Hearing, explores intuitive listening, journal writing, sound awareness, and music.
Later chapters focus upon challenge and change, knowing yourself and your emotions, exploring creativity, an introduction to arts experience, issues of life and death, and mapping your life's journey. In each of these chapters, the author offers much practical advice, and a series of prompts or questions intended to guide the reader in reflection. While many of these are followed only by journal reflections, others are followed by art-based activities designed to process emotion or to reflect more deeply upon particular issues. These include paining and drawing, listening to and making sound, and movement activities. Attractive drawings, examples images, quotes, and poetry serve to complement many of the activities making the book more useful as a self-help guide. In general, the content and structure of this book make it most appropriate for individuals seeking to expand their creativity or to cultivate a personal arts practice for personal growth or for health and well-being.
Loving Your Life: An Illustrated How-to Book on Becoming Who You Are and Loving It, through Passionate, Creative Living, By Elke Scholz
Book Reviewer: Anna Wesolinska Rydzy, Psychologica Magazine, www.oacpp.ca
Loving your Life: An Illustrated How-to Book on Becoming Who You Are and Loving It, through Passionate, Creative Living, by Elke Scholz, General Store Publishing House, Renfrew, Ontario 2013, ISBN 978-1-77123-020-9
Scholz is a fine artist who lives and paints in Bracebridge, Ontario. She has a Master's degree in Expressive Arts Therapy from ISIS College in Canada and is currently exploring work with clients who have experienced trauma and loss, using expressive arts therapy. Her book is a simple, gentle invitation to include arts into our lives.
Scholz does not indulge in theory or make connections to other psychotherapy schools. Her writing is accessible to a wide audience with no psychology or art background. The book is organized as a collection of drawing exercises, meditations and words of wisdom, usually presented as quotes in a bigger font and often paired with one of Scholz' sketches.
The main message of her book is that by committing to an artistic practice of our choice we become more mindful, self-aware and better equipped to deal with stressors. Scholz offers examples of what it means to commit oneself to creative expression and self-awareness work. She encourages her readers to "risk, try and experiment" with dance, painting and writing and goes on to show us how. She fills the book with her own illustrations, doodles and examples of warm-up exercises.
Scholz stresses the importance of playfulness and child-like wonder in all of our art projects by reminding us that the process of creating is more important than the quality of the art produced. The focus is on expressing and losing the inner critic, a practice that ultimately becomes about freeing oneself to be oneself.
Scholz emphasizes that through staying present and paying attention to our needs, wants, and signals from our bodies, we have the ability to unblock ourselves from the areas in our lives where we feel stuck. We can initiate change and self-heal. The author walks us step by step through the process of turning inwards, unleashing our creativity, authenticity and joy in the process by following her simple exercises. One of these exercises is called "Connected Line Exercise, Drawing with your body, heart and mind". The instructions (found on page 178) are as follows:
"The exercise is a warm up for drawing. Do it with your eyes closed or half-closed. Instead of your brain controlling the drawing, let your arm, hand and body take the line, unbroken (pencil not leaving the page), to make shapes. Just let your body be in the moment and see where it takes the lines.
The Process
Place a couple of sheets of white paper in front of you along with a sharpened pencil. Use sheets measuring at least 8.5 by 11 inches.
Put on some soothing music and quietly breathe for five to ten minutes. Focus on slowing your breath and your thoughts.
When you feel ready, slowly open your eyes and let your body take the pencil.
Make lines without lifting pencil from paper.
When your body feels done, stop.
If you wish, turn the paper over and record your feelings and thoughts about this process.
Take as much time as you need.
Scholz believes that we have the power to challenge or heal ourselves, rearrange and or spice up our environments whenever routine and staleness creep up, by trying something new and committing to becoming open and curious.
The Premise is clear: we all encounter stumbling blocks and we all have a choice as to how we are going to cope with them. Art offers one solution. A regular practice allows us each to lead a more mindful and satisfying existence.
When reading Scholz and flipping through her sketches, I caught myself remembering Mihaly Csikszentmihalyi's seminal work: Flow: The Psychology of Optimal Experience and his description of Flow, a state of being completely involved in an activity for its own sake. The ego falls away. Time flies. Every action, movement, and thought follows inevitably from the previous one and in this state people are the happiest. Scholz's suggested exercises have the potential to induce these desired Flow moments.
I also heard echoes from my own Gestalt psychotherapy training which stresses mindfulness, experimentation and awareness. Scholz invites improvisation in awareness. "Try doing something different", "check in with your body", "stay in the moment", and "have the courage to risk being alive."
I enjoyed the simplicity of the art exercises and would have preferred to digest them as such without the "wise quotes" which were perhaps meant to be inspiring or encouraging but which ventured into cliché territory with: "Ending creates a beginning," or "The best I can do is live my life with love," and "The worst I can do is to live my life in fear." The second quote was found on a page above a sketch of a nude woman sitting in nature, arching her back with her head turned towards the sky. A few pages later, "Strut your stuff! Follow your intuition. It's right," is paired up with another sketch of a woman (wrapped in a transparent towel) who is somewhere in nature, barefoot and looking towards the sky.
Innocence is what stands out in Scholz's topics of sketches. There are deer, flowers, children and women in peaceful landscapes which create a "soothing effect" but I would have liked to see some art from her clients instead. What topics, mediums, emotions would prevail?
This second expanded edition includes a chapter on death. It offers exercises and lists of existential questions as part of a creative practice geared towards normalizing and embracing our own loss, grief and death. In the new editions, Scholz also includes a short passage with basic principles on how to support grieving children. In line with the rest of the book, the newly added chapter is a loose collection of quotes, sketches and suggestions for a creative practice.
Loving your Life is a manual and a mini diary of a blossoming artist. Scholz shares insights from her own journey of discovering her creative potential and, despite the weaknesses, her work offers a seductive, experiential proposition; you too can have a fuller, joyful life if you only commit yourself to a regular practice of self-care and discovery through the arts.
About the Author
Anna Wesolinska Rydzy is a Gestalt psychotherapist who has a private practice and has been running workshops at the Gestalt Institute of Toronto, the North York Women's Centre, and the Family Care Office at the University of Toronto.
Loving Your Life: An Illustrated how-to book on becoming who you are and loving it, through passionate, creative living
Review from: Open Road
The author shares her way of life and training in the arts to help the reader to attain happiness.
Elke Scholz, a client-focused and solution-focused therapist who embraces expressive arts therapy among other therapies, believes that each person has a wealth of creativity that leads to the ability to achieve his or her dreams. She addresses the need for listening to ourselves and to others. She stresses the importance and efficacy of journalling. She points out the importance of spiritual pursuits, meditation, a walk in the woods, listening to special music, reading spiritual material.
Then there is the question of creativity. Elke goes into this aspect of our possibilities very deeply, point out the stumbling blocks and suggesting ways to remove them; discusses how to stimulate our creative energy; and finally, how to translate our creativity into an art form. Here is hope for those of us who would like to live more fully and creatively.
"Elke is a courageous woman who through her own life's unfolding has learned to sit with a difficult experience and hold this experience through the arts. Since the first edition of this book, Elke has continued experimenting with how to 'sit in the swamp' and move through the dark places, not knowing what's to come. Through a combination of meditation practices, words of wisdom, and easy-t-follow processes, the reader will find unexpected paths to increasing his or her own creative potential" Lisa Herman, Ph.D., MFT, Registered Expressive Arts Therapist, Director Creative Expression, Sofia University, Palo Alto, California.
Elke Scholz is a well-known author, has her Master of Arts in Expressive Arts Therapy from EGS and holds a postgraduate certificate in Expressive Arts from Sir Sandford Fleming College and a diploma as an expressive arts therapist form the private college, ISIS Canada. She has spent thirty years writing, art coaching and managing her successful art studio in Bracebridge, Ontario.